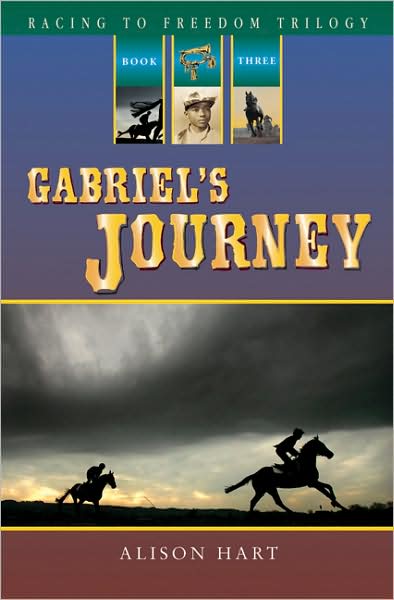 In the final book of the RACING TO FREEDOM trilogy, ex-slave Gabriel leaves behind a successful horse racing career to join his parents at Camp Nelson, where his father is a Sergeant in the
Fifth U.S. Colored Cavalry
of the Union Army.
Twelve-year-old Gabriel is too young to join the regiment as a soldier, but finds a job as personal groom to Champion, the unruly horse that belongs to Colonel Waite, the white commander. When the Cavalry receives orders to join white regiments in an attack on the Virginia salt works, Gabriel joins the troops as a horse-holder. But being a soldier is a lot harder than he imagined. Bad, weather, rough riding, dwindling supplies, and blatant racism wear heavily on his spirit. When his father and Colonel Waite are not among the weary and wounded who return from battle, Gabriel mounts Champion and rides to the battlefield in search of them.
In the final book of this highly engrossing historical fiction trilogy set during the Civil War, author Alison Hart continues to explore the complex relationships between black and white, slave and master, and North and South. The result is a gripping story that vividly brings to life the danger and drama of a time when war and issues of race and freedom divided the country.
Background historical material, photos, and suggestions for further reading are included. The author's research included perusing this web site <
www.5thuscc.net
>.
---
Excerpt from Chapter 12, pages 130-131
...Hoofbeats thud in the foggy distance. Then angry words drift down the hillside from the cabin. "Drag them coloreds outta there!" a gruff voice hollers.
The surgeon's voice raises in protest, but moments later the report of revolvers echoes through the hills. I startle with each shot.
"Oh my god!" the captain cried out hoarsely. "They're killing the wounded. During the battle, I heard them yell, 'no quarter' but I paid them no mind. Now I realize they meant it."
Private Black's words flash in my mind like a warning: When those Confederates see our black faces charging them with rifles and bayonets, they're going to attack us with a vengeance.
Captain Waite stares into the fog. "I gather they aim to kill every black soldier and their officers without mercy. That's why General Burbridge hightailed it out of here."
Clucking to Champion, I hurry him along a fence towards the house. When we trot into the yard, a Union surgeon's assistant meets us. "What's going on?" he asks.
"The Rebels are murdering the wounded." Captain Waite places his hand on his holster.
My mind reels as I think about Private Lewis back at the cabin. Did they kill him? And what about Pa and Private Black unprotected on the hillside with no protection?...
---
About the Author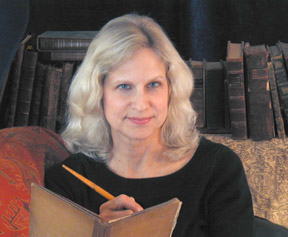 Alison Hart is the author of many books for young readers, including the Riding Academy series and SHADOW HORSE, a 2000 Edgar nominee for best children s mystery. Hart is an accomplished equestrienne and a teacher. She lives in Virginia. Visit her Web site at http://www.childrensbookguild.org/hart.html