September 14, 1998
Fallen black soldiers to be honored
September 21, 1998
Couple scouts out Saltville before consecration
September 28, 1998
Kentucky joining ranks at Saltville Friday
October 4, 1998
Slaughtered soldiers receive their burial service
By BILL ARCHER of the Daily Telegraph staff
SALTVILLE, Va. - In the end it is the images that will endure after so much time has passed. Images like that of Bluefield's Max Kammer showing members of the Scott Street Baptist youth group how to plant the American flag . . . of an obviously moved David Brown, so overwhelmed that he concluded his brief remarks in mid-sentence and just said thanks . . . of Rev. Garry Moore's voice echoing through the southwestern Virginia mountains . . . and of Daniel Wells playing "Taps' for so many unknown heroes of the fight for freedom.
There was a mixture of all ages and races at the service in honor of the men of the 5th and 6th U S. Colored Cavalry Friday evening at the Saltville Battlefield Overlook Suzanne Slaughter, 92 made the Journey from her home m Keystone, and Saltville Town Manager John E.B. Clark Jr., held his young son, Jeb, in his arms as the ceremony unfolded.
"But when life begins to take on a sterner aspect, and your children become conscious of expanding powers within " the Rev. Moore said. "When they feel for the first time that God has called them to a higher calling than which they're living; tomorrow, they'll want to know what helped in our testing hours, from what secret did our hopes spring eternal? What secret kept our faith alive?"
The group of about 130 people gathered on a hillside on the north slope of Chestnut Ridge in Saltville to remember an event that some people would just as soon forget.
On Oct. 2,1864, approximately 600 men of the recently-formed 5th and 6th USCC were ordered to dismount and attack a heavily fortified position that defended the vital salt furnaces of "The Salt Capital of the Confederacy."
The men of the 5th and 6th -- all black, and most having just bought their freedom from slavery by joining the Union Army -- got almost to the top of Chestnut Ridge, but were driven back. That night, the rest of the 5,000 plus man Union Army the 5th and 6th fought with left the area. The following day, Confederate soldiers went through the area and killed the wounded African American soldiers who made the attack.
Perhaps as many as 155 soldiers were killed in this massacre said to be among the most atrocious acts of the Civil War. Their bodies, according to local legend were dumped in a sink hole near the battlefield, and a pig pen was placed there to conceal the location.
"What does this memorial here in Saltville mean tonight?" Moore continued. Karl Miller, who accompanied all the musical selections of the service, turned the headlights of his car on the speaker's area to give Moore light to see his notes. `'What are we going to say when our children come asking?
"Well, at least they pay us a compliment by being here interring that our history and faith mean something to us, he continued.
---
"One possible meaning and answer of tonight's memorial is that since we're confronting our past -that is sometimes not so grand and exciting tonight as we light these luminaries, we stop blaming the whites of today for slavery, Jim Crow days and segregation."
-Rev. Gary Moore
---
They feel it must mean something and they're inviting us to make our meaning plain. Our answer should have so lasting of an effect that it will transcend the moment and our children will have to explain the memorial to their children. That's what making history is all about.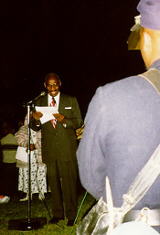 "Martin Luther King Jr. said that, 'if our country is to transform itself into the nation that God intended, then blacks are going to have to free whites from their guilt and whites are going to have to free blacks from their fear," Moore continued
"One possible meaning and answer of tonight's memorial is that since we're confronting our past - that is sometimes not so grand and exciting- tonight as we light these luminaries, we stop blaming the whites of today for slavery, Jim Crow days and segregation," he said. "And likewise, whites can free blacks from their fear of remembering and becoming, and begin to tell history from both sides - Tell history as raw and ugly as it was and not just from the beneficiaries' point of view "
Immediately after Moore's address, Deacon Samuel Johnson read the names of men still listed as "missing in action" from the battle. James Sims accompanied by Miller, and backed up on vocals by the Rev. Henry Lamar, Miller and several in the audience, sang an incredibly moving version of "Your Grace and Mercy" as the Scott Street youth went to the mountainside to light 150 luminaries.
The crowd followed and watched intently as the youth lit the candles in the darkness. The moment their work was done seemed almost suspended in time. Charles Rawlins of Washington, D.C., a Civil War reenactor of the 54th Massachusetts, stood at attention, and - in uniform -posted the 54th's colors as the luminaries were lit.
Walter Lawson, past state commander of the Veterans of Foreign Wars, and a member of Bramwell's Black Rock Post 3112, placed a wreath in memory of all the soldiers who died on that battlefield. And with that wreath placement, 12-year-old Daniel Wells played "Taps," for the men of the 5th and 6th -134 years after they died for freedom.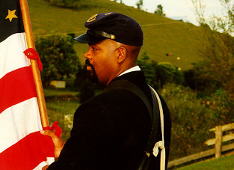 "Your brother would be proud of you," Alcesta Wells said to her son, Daniel. Mrs. Wells and her husband, Harold, organized the youth group and took care of the luminaries.
Daniel's brother, Ronnie was Bluefield High School class president in 1995, captain of the state champion basketball team, class salutatorian and is now a fourth year pre-med student in Kansas.
Lamar had given the opening prayer. The Rev. Robert Cook, a Methodist minister from Saltville delivered a prayer of understanding midway through the program and the Rev. F. Winston Polley pastor of Tabernacle Baptist Church in Bluefield, Va., delivered the closing prayer - just prior to the singing of "Lift Every Voice and Sing", the Negro National Anthem.
Joseph Bundy delivered a dramatic reading of a moving poem first delivered at the memorial service of Capt. Robert Gould Shaw, the white commander of the all African-American 54th Massachusetts. Shaw was killed in an attack on Fort Wagner at Charleston, S.C., and was buried in a mass grave with the soldiers who also died in the attack.
James Sims also sang a stirring version of "Nobody Knows The Trouble I've Seen", and Miller, a U.S. Marine Corps veteran, sang and played, "God Bless the U.S.A."
I don't know why I couldn't finish what I was saying," David Brown said. He is a great-great grandson of Samuel Truehart of the 5th USCC who survived the attack that day.
For the past year, he has spent as much of his free time as possible researching old records at the National Archives to ascertain without question, the men who were murdered in Saltville after the battle, and to push for a permanent memorial to their memory.
I guess it was just that I've been working with these guys for so long now, that I feel so close to them," Brown said as he was the last person to walk from the battlefield overlook. "It was all too much. I'm not usually like this. There were other things I wanted to say. I just couldn't say them."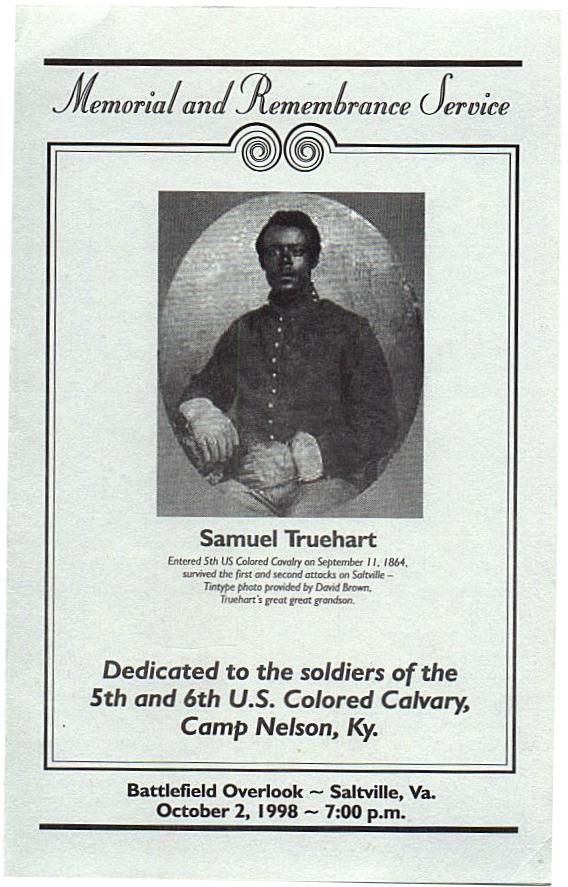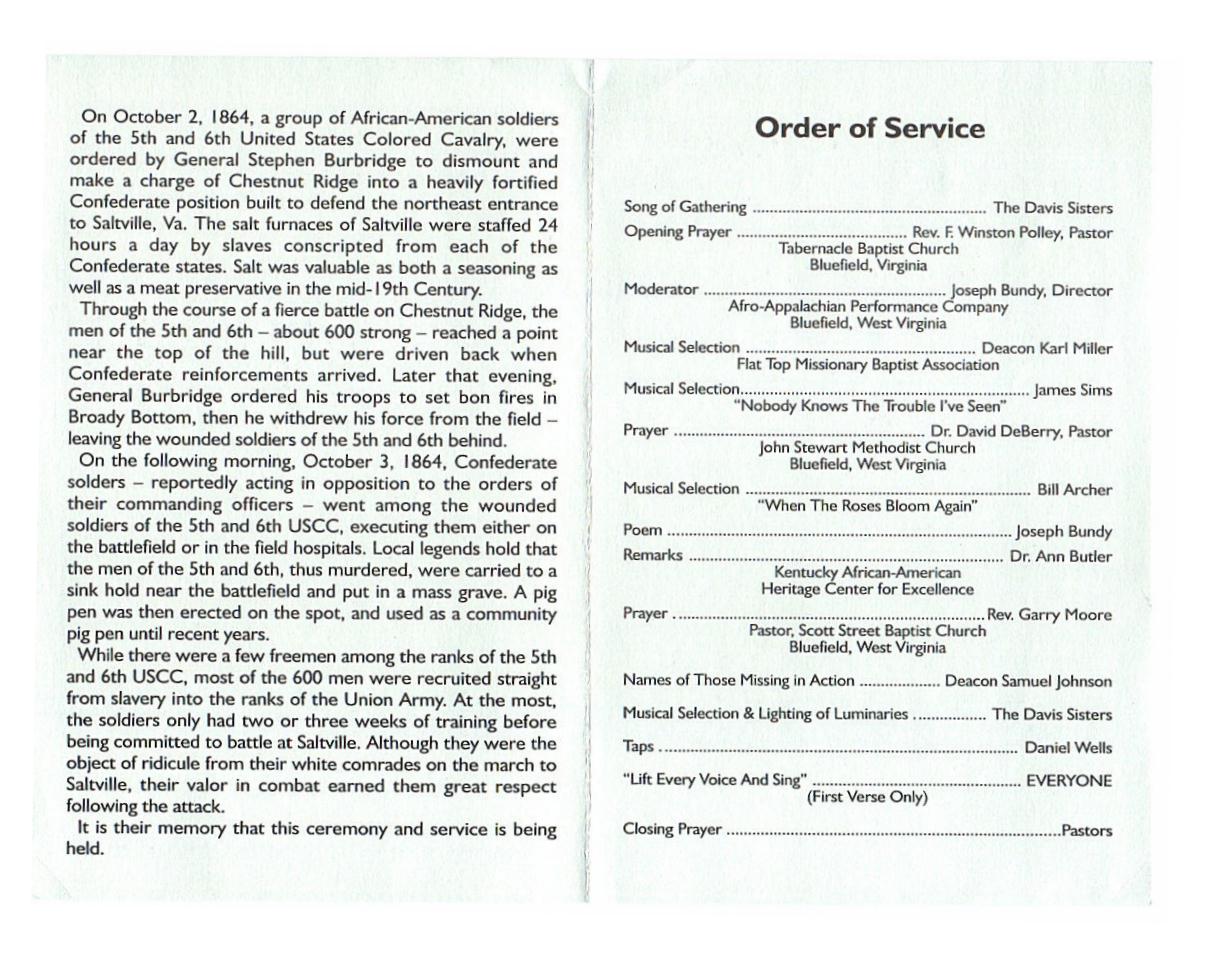 ---
September 28, 1998
Kentucky joining ranks at Saltville Friday
By BILL ARCHER of the Daily Telegraph staff
SALTVILLE, Va. - When the luminaries are lit for the honored dead - fallen Unionsoldiers of the ill-fated American Civil War attack on Saltville - Kentucky will be present on the field.
"For years, we've been thinking about slipping across the state line and erecting aKentucky historical marker at Saltville," said Dr. Ann Butler, director of the Center forExcellence For the Study of Kentucky African-Americans. "It is with a great sense ofappreciation that I speak with you of the efforts the community is making to rememberthe soldiers ... to remember the unknowns. I'll be there."
For 134 years, the Battle of Saltville, on Oct. 2, 1864, has been a source of many things. On one hand, Confederate defenders have taken pride in defending the vital salt furnaces in the face of a superior force. The defeat and withdrawal of Federal Gen. stephen Burbridge's 5,800 Kentuckians was one of only a few successes the Confederate forces enjoyed during the waning months.
However, neither side - Union or Confederate - seems to take much solace in the aftermath of the battle. Two recently formed companies - the 5th and 6th U.S. ColoredCavalry - about 600 men strong, lead the attack up Chestnut Ridge. Most were recruited into the army straight out of slavery. They marched into the face of the enemy, but they did so amid the insults of their white Yankee brothers.
"On the march, the colored soldiers as well as their white officers were made the subject of much ridicule and many insulting remarks by the white troops, and in some instances, petty outrages, such as pulling off their caps, stealing their horses [and so forth]," Col. James S. Brisbin, commander of the 5th USCC, said. He added that the black soldiers made no response to the activities of their fellow Yankees.
"Here in Kentucky, we've been working to reconstruct Camp Nelson in Jessamine County about 12 miles south of Lexington," Butler said. "Kentucky had the secondlargest number of African-American soldiers serving in the Union Army with about23,700 black soldiers. We were second only to Louisiana, but not by many."
Some historians, like Joseph Bundy of Bluefield, point out that after black soldiers wererecruited into the Union Army, they often were sent into the fray as the lead elements ofattacks. For example, the unsuccessful Federal attack on Forth Wagner near Charleston, S.C., was lead by African-American soldiers of the 54th Massachusetts.That battle was retold in the movie "Glory."
However, the soldiers of the 5th and 6th USCC suffered a much less glorious fate inSaltville. With just a couple weeks of training, they arrived at Broady Bottom on theNortheast entrance to Saltville on what is now state Route 91. They dismounted andcharged almost straight up the hill into the face of Confederate cannon and musket fire.In a couple hours of fighting, they reached a point near the summit of Chestnut Ridge, but a lack of ammunition combined with a Confederate counterattack forced a retreat.
Burbridge ordered bonfires set in Broady Bottom to cover a hasty retreat of the mainbody of his force under the cover of darkness. The retreat was made in such haste thatan unknown number of wounded soldiers were abandoned on the battlefield or in fieldhospitals.
Those men - estimates range from a high of 155 to a low of 20, but 49 men of the 5thand 6th remain listed as missing in action - reportedly were murdered and then drug toa sinkhole near the battlefield and buried in a mass grave. The location allegedly was covered by a pigpen to presumably conceal its location from any Yankee troops thatmight follow.
"Reports from that engagement indicate that while they endured the taunts of their fellow white soldiers during the march to Saltville, their valor in combat earned them a great measure of respect after the fight," Richard Jett of the Kentucky Heritage Council said. "One report said: 'The men could not have fought more bravely'."
Upon hearing of the battlefield atrocity delivered on the men of the 5th and 6th, Gen. Robert E. Lee ordered the arrest of those believed to be responsible. Champ Fergusonwas briefly detained by Confederate forces, but escaped until being caught in Wytheville by advancing Federal forces in May 1865. He was tried for war crimes and hanged on Oct. 20, 1865, one of only two people, the other being Andersonville Prison Commandant Henry Wirz, tried and executed for war crimes.
The representatives from Kentucky will meet with other like-minded people from WestVirginia and Virginia for the 7 p.m. memorial/consecration ceremony scheduled for thisFriday at the Saltville Battlefield Overlook. Locally, groups will be leaving from the Bluefield Daily Telegraph parking lot to travel to the location in motor-caravan-style with the first group leaving at 4 p.m. Friday, and the last group pulling out of the parking lot at 5 p.m.
Celest Lanier, former chairperson of the Kentucky African-American Heritage Commission, said she will contact Kentucky Educational Television, a group thatpreviously had expressed interest in a memorial for the soldiers.
"A few years ago, we found a stone monument at Greenhill Cemetery in Frankfort,Ky., that lists 142 black men who served in the Civil War," Lanier said. "It's the onlymonument we know of anywhere. Unless you knew it was there, you wouldn't knowanything about it."
People associated with efforts in Kentucky aimed at recognizing the long-forgottensoldiers as well as local organizers of the event hope to rectify that situation in Saltvillein the coming months.
---
September 21, 1998
Couple scouts out Saltville before consecration
By BILL ARCHER of the Daily Telegraph staff
SALTVILLE, Va. - Harold and Alcesta Wells were struck by the raw natural beauty of Saltville when they drove into town Friday morning. Harold commented that it would make a nice place for tourists to come. Alcesta agreed.It was their first trip to Saltville. Alcesta's grandfather and his brother came from North Carolina before the turn of the century for coal mining jobs. Harold's grandfather might have come from around Danville, Va. Like many African-Americans, their heritage is rather cloudy after the grandparent stage.
Their great-grandparents were most likely slaves, and as such, were property of slave-owners who usually kept meticulous track of them, but only by age, gender and first names like Mary, Joseph and Sarah. With the late Alex Haley's celebrated "Roots" serving as the exception, not many African-Americans in southern West Virginia or southwestern Virginia are certain of their family's past.
Harold and Alcesta entered Saltville on State Route 107 after exiting I-81 at Chilhowie - just eight miles to the south.
"This would be a great place to camp," Harold said. "We don't go camping in this part of Virginia. People look at you different. You can't explain it to the kids. It's easier to camp someplace else or don't go camping at all. Is that tobacco growing there?"
Harold and Alcesta met and fell in love at Bluefield State College after Harold pulled a stretch in the U.S. Army Airborne. They have three kids. Alcesta worked to put Harold through WVU Pharmacy School. Ronnie is in the premed program at a college in Kansas. He was senior class president and captain of the Bluefield High School Class AA State basketball championship team in '95. Loren, 14, and Daniel, 11, are still in the Mercer County public school system.
The Wells are unique. In a city that contains about one-fifth of all the African-American population of West Virginia, they represent one of the few families of color in the professions living in the city. In comparison to just a few decades ago, there are precious few black-owned businesses of any kind in Bluefield.
But on Friday, they entered Saltville for the first time. When the road came to a "T" with State Route 91, they turned to the north - right - and drove a couple blocks until they made another right on Buckeye Street and almost an immediate left on Buckeye Street Extension. In less than a quarter mile on Buckeye Street extension, they parked in a gravel parking lot and walked up a well-manicured hill, topped by a rather small fieldstone pavilion.
At about noon on Oct. 2, 1864, two undermanned companies of African-American soldiers of the newly formed U.S. 5th and 6th Colored Cavalry were given an almost impossible order to storm a heavily fortified Confederate position on Chestnut Ridge. In defense of the vital salt works in Saltville, the Confederate Army had surrounded the "Salt Capital of the Confederacy" with plenty of fortifications. The black soldiers - some supposedly just recruited out of slavery - dismounted and attacked into the face of relentless cannon and musket fire.
"From all I understand, this was their Hamburger Hill," Charlie Bill Totten said. Charlie Bill was a long-time Saltville public works employee who knows the community's history better than just about anyone. At 50-something, he still carries himself like a soldier walking point in Vietnam. His Hamburger Hill was in Southeast Asia. Between intense bits of local folklore and history, he reveals some of himself.
"I've never been to the Wall," Totten said as he showed the Wells a sinkhole that he personally believes was where perhaps as few as 20 or as many as 155 soldiers of the 5th and 6th Colored Cavalry were dumped in a mass grave after dying on the battlefield or being systematically murdered afterwards as they tended to their wounds.
"Maybe I could go to the Wall some day if I went with people as strong as you," Totten said. As a young man growing up in Saltville, he'd lived in that hollow. The Olin Chemical town of neat frame company houses butt up against the ravine Totten believes is the one. Others are just as convinced it is located in a sinkhole near Broady bottom, while still others contend it's on top of Chestnut Ridge. "Cedar Branch tributary ran red with blood that day," Totten said.
At the command of Union General Stephen Burbridge, the two black companies of about 600 men attacked up the hill until a determined Confederate force repelled their assault. After setting bonfires, presumably as a diversionary tactic, the survivors of the 5th and 6th as well as the balance of the about 5,800 soldiers under Burbridges' command quit the field - leaving their wounded and dead behind.
The stories of the horrible aftermath at Saltville are many and diverse. Thomas D. Mays, now a history professor at Quincy University in Illinois, wrote his master's thesis on the "Saltville Massacre," in 1992. Another historian named William Marvel "claimed that no massacre whatsoever took place," Mays said. "The first thing is, the site needs a survey."
David Brown of Columbia, Md., initiated the most comprehensive study of the 5th and 6th Colored Cavalry to date. About a year ago, he started to search for the records of his great-great-grandfather, Samuel Truehart, born to free parents in Shelby, Ky., who left a job as a rural mail carrier to join the U.S. Army on Sept. 11, 1864. In less than a month, he would be storming Chestnut Hill with his comrades in the 5th Colored Cavalry.
Brown has had his family papers for some time. His mother has a retouched portrait of her grandfather in uniform. Brown marks his Web page on the Internet with the image of Truehart taken from the old tintype picture. His Web address is www.erols.com/browns/massacr.htm
Brown read Marvel's article about Saltville, and was motivated to search more deeply. After a short while, he discovered Mays' master's thesis that paints a decidedly different picture, and his work with another researcher in the National Archives is the most precise to date. At this point, he can say with confidence that there are at least 49 men of the 5th and 6th still missing in action and presumably in the mass grave.
"When I was a kid, we had hogs there," Totten said of the site. "Once a year, all of the young kids who lived there had the duty of cleaning out the hog pens. We were finding too many buttons, belt buckles and ribbons for it to be anything else. Too many."
"Ribbons ..." Harold Wells said. "He said ribbons. I wonder what kind of ribbons he found."
Alcesta Wells has a youth group at Bluefield's Scott Street Baptist Church. She had about 36 members that put on a play a couple weeks ago that had a modern day slant of the story of Christ's trial and crucifixion. The Wells are not embarrassed by their faith. Harold prayed at the drive-through of McDonalds in Chilhowie on the way back home. The clerk didn't seem to mind waiting.
Alcesta's youth group will be lighting luminaries at the end of a memorial/consecration ceremony on Oct. 2 starting at 7 p.m. on the Battlefield Overlook in Saltville. The service is being held to honor the unknown MIA and men killed in action at Saltville. She said that since it's Bluefield High's homecoming, the members in the high school won't be able to attend, but the middle school-aged kids should be there. Her son Daniel is practicing every night to play "Taps" on Ronnie's old trumpet. Ronnie was an All State Band member.
The ceremony will consist of prayers alternated with songs. The final order of presentation has yet to be set. Only the time, date and location are confirmed. Totten and officials of the town of Saltville have been extremely helpful with facilitating the memorial/consecration service.
---
September 14, 1998
Fallen black soldiers to be honored
By BILL ARCHER of the Daily Telegraph staff
SALTVILLE, Va. - Officials in Saltville announced last week that they have approved a request from Bluefield residents to hold a combination memorial and consecration service honoring the men of the 5th and 6th Colored Cavalry who died on and after the Battle of Saltville.
The service will be held at 7 p.m., Oct. 2, on the Saltville Overlook, at the sight where the men of the 5th and 6th Colored Cavalry - mustered straight from slavery and into the Union Army - made a valiant but ill-fated attack upon a heavily fortified Confederate Army position that defended Saltville's vital salt-manufacturing facility.
Several men of the 5th and 6th USCC died in the assault on Oct. 2, 1864, but even more were killed after the battle when renegade Rebel forces went into the battlefield and killed wounded black soldiers who were left unsupported by the balance of the Union Army they arrived with. Those federal troops were sent to Tennessee to suppress a Confederate unit advancing to the east. Some accounts indicate that the renegade Rebel troops killed wounded African-American troops in thefield hospitals and in a makeshift hospital set up at nearby Emory & Henry College.
During their regular session held on Tuesday, Sept. 8, the Saltville Town Council, acting on a motion by Vice Mayor Garland Parks and seconded by council member Phil Collins approved the request to hold the ceremony.
Eleanor Jones, a member of the board of the Saltville-based Museum of the Middle Appalachians, is working on arrangements in that community to facilitate the program and Joseph Bundy, noted area historian and director of the Bluefield-based Afro-Appalachian Performance Company, is coordinating additional aspects of the service.
Some area gospel groups and local ministers have already agreed to participate in the program. A youth group from Scott Street Baptist Church under the leadership of Alcesta Wells, will be lighting luminaries in honor of the men of the 5th and 6th who died during and after the battle. Other arrangements will be announced prior to the ceremony.
Researchers are still uncertain as to the number of troops killed in the fighting and the tragedy that followed, although David Brown, a descendent of one of the survivors of the 5th USCC, is compiling a most-current list of the men still listed as "Missing In Action" from the battle.
Local residents say legend holds that the men were all buried in a common grave in a sinkhole not far from the Saltville Overlook. While gruesome stories circulate about the supposed site of the mass grave, there has yet to be a serious archaeological examination of the area.
Leaders of the present effort to honor the men of the 5th and 6th USCC as well as others hope to determine if there is a mass burial, and to put a permanent monument there to honor the soldiers who died there.